How to Turn Hotel Restaurants Into Profit Centers
Food and beverage outlets are one of the most challenging parts of the hotel industry.
Directors of Food & Beverage have to balance the ever-changing landscape of labor, food costs, and customer expectations. Their revenue streams often rely on the occupancy of the hotel to fill their tables, while competing with local restaurants with dedicated marketing teams. The pandemic has dramatically reduced occupancy - forcing hotel restaurants to adapt to just having takeout as an option, offer more original and creative offerings, and rely increasingly on customers from their local communities.
Hotel restaurants found incredible amounts of revenue that were being left on the table. While hotel restaurants have always opened their doors to non-guests, the shift to focusing on the local community has created new loyal customers that boost profits time and time again.
"We have 555 hotel restaurants around the world and 55% to 60% of our diners are locals," said Kimberly Grant, Senior Vice President, Food and Beverage, and Global Head of Restaurants for Four Seasons Hotels.
She was quoted in a recent edition of FoodService Director Magazine. Dining is the gateway to the brand, Grant believes, and these are the trends becoming ingrained in the Four Seasons brand.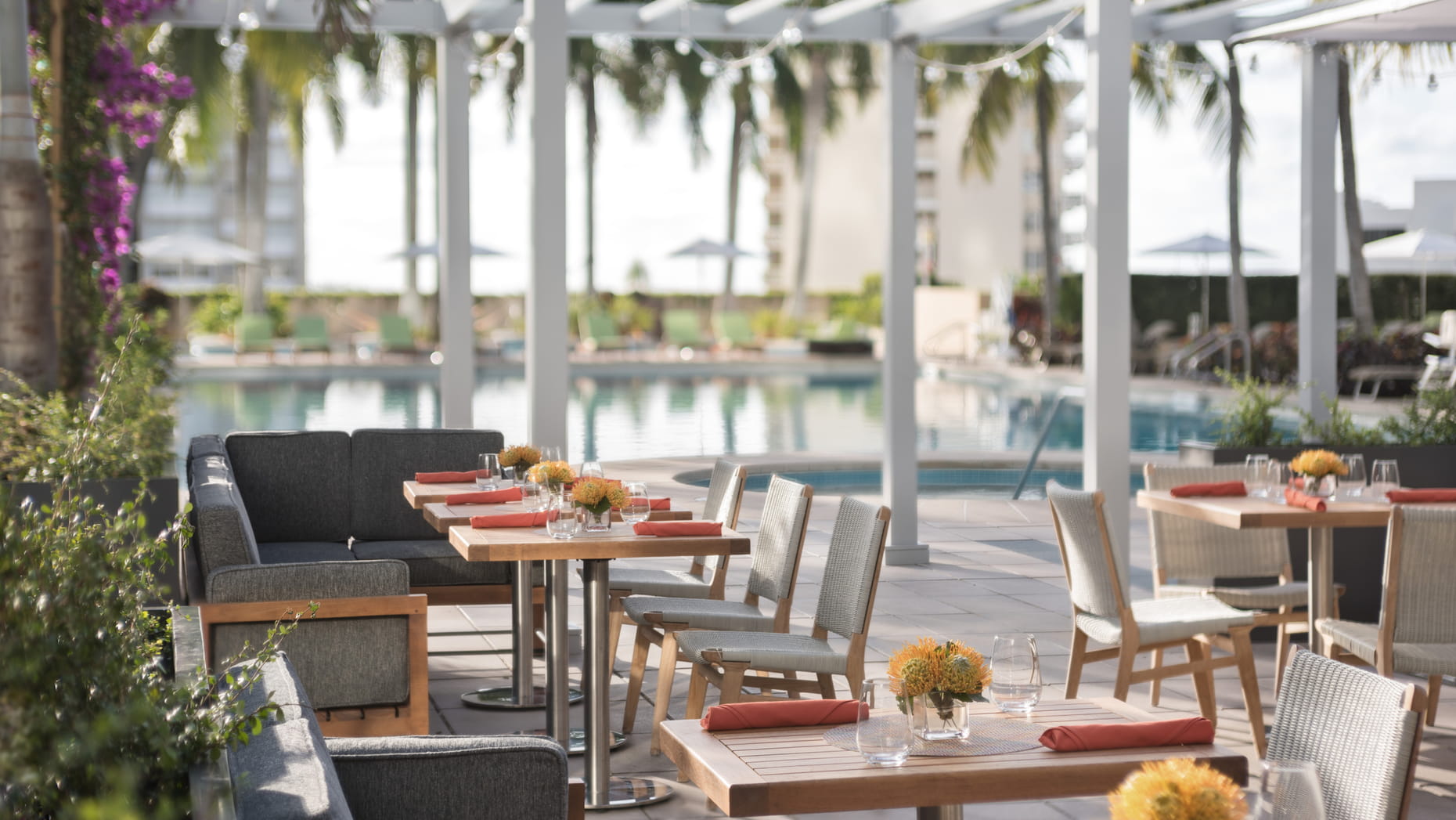 Miami, Florida
Early adopters are seeing momentous lifts in their food and beverage bottom line. For example, at the Dream Hotel Group, Dream Hollywood's exclusive rooftop bar is a destination for locals and travelers alike averaging about $1 million a week in revenues, according to CEO Jay Stein. About 75% of the revenue from Dream Hollywood comes from food and beverage services. Stein reported that 50% of the brand's overall revenue comes from on-site food and beverage services. Stein discussed this phenomenon at the recent Boutique Hotel Investment Conference, an annual event of the Boutique Lifestyle Leaders Association.
Stein was quoted as saying at the conference: "By putting a great vibe into our hotels, people wanted to stay there. Instead of guests leaving the hotel property to meet with friends or colleagues for a bite, the hotel's investment in creating modern, attractive spaces encourages Dream Hotel business and leisure travelers to stay on-site and increase F&B capital."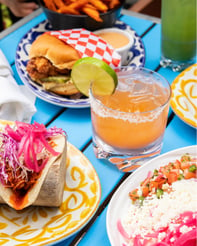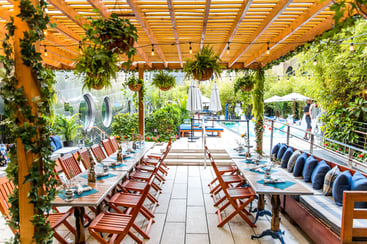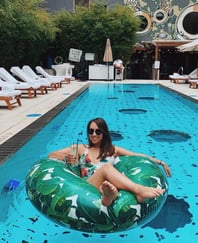 New York City, New York
Both brands and other hospitality brands are leveraging Day Guest programs to increase F&B revenue by attracting new high-spending locals or travelers staying at alternative accommodations. Similar to hotel reservations, day guests register and pay online to access the hotel amenities like the pool, spa, cabanas, etc just for the day. They are not only creating a new revenue stream of upwards of $1 million from day passes, but they are boosting F&B spending while lounging by the pool all day.
In fact, ResortPass has found that day guests average $250 per booking in F&B at its partner properties. Bringing in a select number of high-spending day guests any time you could use a boost, on lower occupancy days and shoulder seasons, can significantly increase and sustain strong F&B revenues. Day Guests tend to purchase multiple meals and beverages throughout the day. The best part is the hotel always maintains complete control of the availability and pricing to ensure an excellent guests experience for all guest types.
In addition to the money spent by "daycationers," who may frequent your restaurants and bars, there is the "pass along" value they and ResortPass provide to your resort. Often, these are guests who reside in the area or who may be staying at more limited service properties and want to experience fine dining, pampering, and total luxury at your property for a day or two. Their word-of-mouth raves about your F&B will be passed on to friends, family, neighbors, and work colleagues - which can give you an enhanced and much welcomed local following in your particular market. They also are likely to post great reviews on social media, which will improve your F&B profits. This will continue to have a positive ripple effect on your F&B bottom line.
This increase in your local following is particularly important during slower travel times of the year, and ResortPass can help with this as well. In addition to those dining in your restaurants, the positive ripple effect of ResortPass can spread to increased restaurant catering business for local social, business events, and takeout business. Many restaurants, both hotels and those that are freestanding, were buoyed by a takeout business during the height of the pandemic. This type of local business can be long-lasting and very lucrative.
There also is the opportunity to show off your F&B in creative promotions and theme events, and day guests will enjoy taking part in these. At Florida's Ritz-Carlton, Naples, for example, there are various dining experiences ranging from $200 to $850 per booking. The Tequila Eclipse Dessert Experience includes a private poolside cabana, complete with an array of tequilas and Mexican-inspired desserts - starting at $200. Or, day guests can indulge in the luxury poolside cabana Enamorarse Dining Experience, which features a candlelit dinner for two with courses from a custom menu based on the chef's recommendations and a bottle of champagne - starting at $850.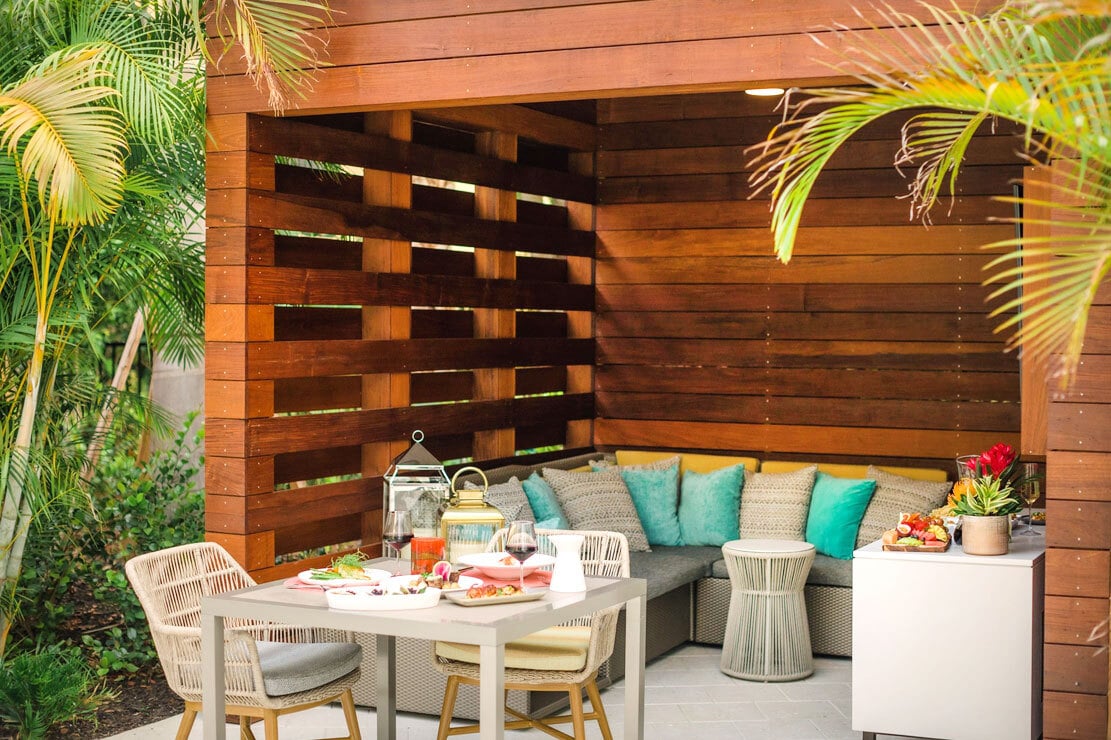 Naples, Florida
The Hyatt Regency Scottsdale Resort & Spa in Arizona offers special events that include food and drinks for purchase. These include the August Nights Luau, August Nights Carnival, and August Nights Drive-in Movies.
And, the InterContinental Los Angeles Downtown has cabana add-ons with different F&B packages. For instance, the $350 "Surfurbia" Package serves guests an antipasto platter and a variety of juices, water, and sodas.
So, promote your F&B to the max and be as unique in your offerings as you want to be. Create the opportunity to make your restaurant or bar the star of your hotel. The sky's the limit for F&B revenues, and ResortPass will be right by your side to help you maximize these earnings during all times of the year.
Interested in learning how your hotel can boost ancillary revenue on ResortPass? It's free to sign up for and easy to implement with no IT required. Schedule a call today and start boosting your ancillary revenue in no time!