How to Streamline Poolside Operations
With a super scorcher summer predicted and a shortage of labor that continues nationwide, streamlining your poolside operations over the next few months is more important than ever.
There were heat advisories and excessive heat warnings in effect for more than 75 million people in the southern and central United States earlier this month, according to the National Weather Service. And, couple this with systemic labor shortages all across the country, and you will need to find a way to make your pool operations more efficient while maximizing incremental revenue through cabanas, daybeds, and reserved poolside seating.
Guests this summer will be seeking cabanas and daybeds to help provide some shade and comfort as they order cold drinks and food to stay hydrated and well-fed as the mercury climbs. All of this translates into enhanced sources of revenue beyond just hotel rooms. Your pool becomes a newly-invigorated profit center during these crucial summer months.
Here are some tips for streamlining your poolside operations this summer:
Digitalize the booking process
Make calling or emailing to reserve poolside amenities a thing of the past. Guests want a seamless booking experience with instant confirmation of their reservation. Your hotel can capture even more reservations by providing a white-label site for guests to book themselves.
It relieves your staff by making it easy for guests to make reservations online from any device through a beautifully designed website branded with your hotel logo and photos. The link can be shared in pre-arrival email, via QR codes on the property, or by hosting the booking engines on your website.
Simplify the process further with poolside seating maps so guests can choose their cabana, daybed, or pool chair location on an interactive map at the time of booking. All your staff has to do is select checked-in in the system and show them to their selected location on the map. Your staff does have the ability to assign and reassign seating if any changes need to be made.
All kinds of properties - from resorts and casinos to luxury hotels to small boutique properties - are transforming their poolside operations with
white label solutions
.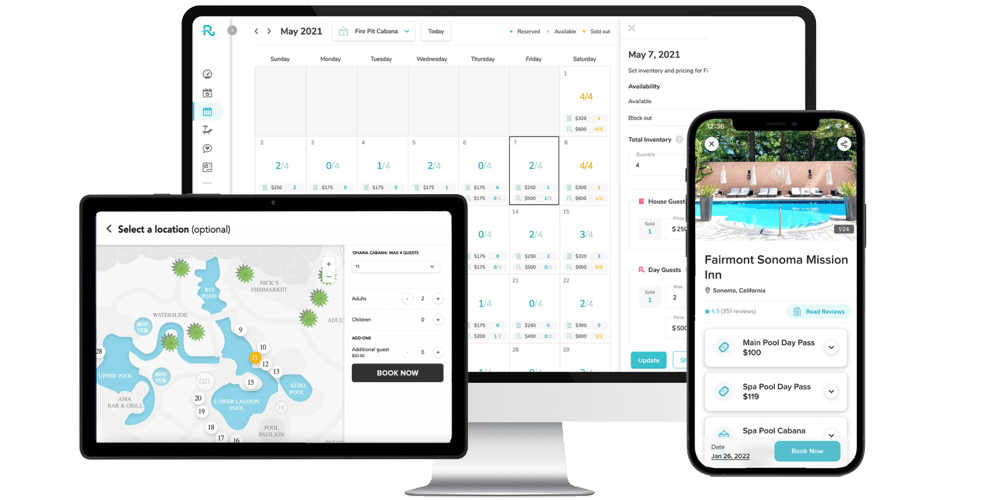 Optimize pricing and revenue generation
Similar to hotel rooms, poolside amenities have a finite amount of cabanas or daybeds. Any unsold cabana is a missed revenue opportunity. Many hotels are charging the equivalent of a nightly rate or more ($250 - $2,000) and can optimize pricing based on demand.
On top of enhancing the guest experience through seamless online booking, hotels using the
ResortPass platform
can also fill any available inventory to high-spending local and visiting guests nearby. Day guests can book a day pass, cabana, daybed, activity or event on ResortPass.com or the mobile app. Hotels have complete control over pricing and availability to ensure an exceptional experience for both day guests and overnight guests.

The central system allows hotels to manage reservations, pricing, and inventory for all guest types, all in one place, and on any device. Centralized inventory eliminates over-booking and double entry which saves staff time and resources.
Furthermore, ResortPass is the only platform with the ability to set different pricing and inventory for two guest types: day guests and in-house guests. This allows for true yield management and hotels that are using the full platform drive upwards of $1 million in new revenue a year.
"ResortPass has been wildly beneficial to our pool operations both internally, through the use of their pool management platform, and as well as externally from a revenue generation standpoint," said Tom Houston, director of food and beverage at the Fairmont Kea Lani in Maui, Hawaii.
Fairmont Kea Lani has seen a 38% increase in cabanas revenue from guests booking through their custom white-label site from 2021 to 2022. Hotel guest rates are $100 less for poolside reservations compared to day guests. The Ali'i Cabana sells for an average of $799 on ResortPass. Bookings for Fairmont Kea Lani on
ResortPass
have more than tripled in 2022.
Manage inventory, pricing, and check-in guests on the go
Manage reservations, inventory, and pricing on-the-go with the ResortPass mobile app. This helps save time and free up staff to handle other responsibilities.
Hotel employees can check in guests and view details about upcoming reservations, adjust pricing and inventory on-the-go, optimize revenue and efficiently manage inventory for both overnight and
day guests.
"The app has allowed our Pool Ambassadors to be more efficient, as they don't need to get updated reservation lists when same-day bookings are made," said Omar Hatoum, director of rooms at The Shay in Culver City, Calif. " It also makes for a more tech-forward arrival experience, checking guests in directly through the app if they bypass the front desk."
"I often withhold inventory, as I can never know for sure how many of our hotel guests will be enjoying the pool on a given day. It's important that we balance the hotel guest experience with the ResortPass guest experience. The app allows me to make quick updates to inventory without the need to return to my desk. In our industry we're often on the go, so to be able to make changes to inventory and pricing while on the go is HUGE."
Simplify summer programming and activities
Hotels are turning to summer programming and activities to drive additional revenue as more people are looking for nearby experiences without the cost of having to fly or drive this summer. ResortPass simplifies the booking and management of activities, rentals, events, and poolside amenities in an all-in-one solution.
Omni Resorts and Hotels has expanded their offerings to include meeting room rentals, S'more experiences, wine and painting classes, kid's movie night, dinner packages, and other types of activities available to reserve on their white-label site and on the ResortPass marketplace. With the ability to channel and price manage, they are able to offer complimentary activities for overnight guests and charge a premium for day guests on ResortPass.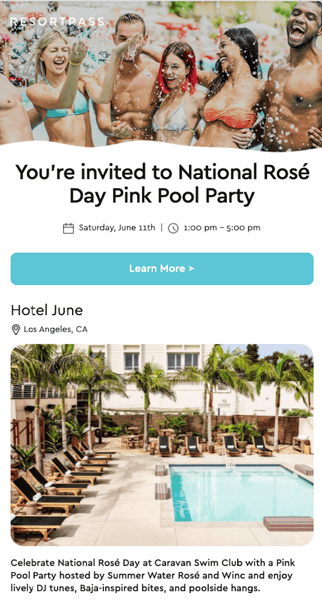 With a click of a button, hotels can open up availability for activities, events, and experiences on the marketplace and fill available spots with local guests. ResportPass's audience is highly engaged with over 100,000+ fast-growing followers on Facebook and Instagram. ResortPass leverages paid ads, email marketing, text messages, and push notifications to promote hotel partners.
The Hotel June in Los Angeles recently created a Rose Day Pink Pool Party, in honor of National Rose Day, on June 11. This included a ResortPass day pass to the hotel's Baja-inspired Caravan Swim Club, featuring Summer Water Rose, snacks, and live DJ entertainment. Prior to an email being sent to potential guests for this party, only six out of 40 tickets were sold for the event. After the email was sent, less than 24 hours later, the event was sold out. This pool party became a "profit party" for Hotel June.
Through the use of ResortPass's technology, creative selling, and some marketing savvy, your pool can boost profits across the property with streamlined and more efficient operations.
Get started today! With no set-up costs or IT required, our implementation is fast and easy with an average turnaround time of 7 days. Make the most out of your summer with ResortPass.