Optimizing Resort Activities and Revamping Summer Programs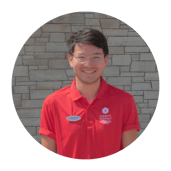 Q&A with Hyatt Regency Chesapeake Bay
Golf Resort, Spa, and Marina
Andrew Pelletier, Assistant Operations Manager
Recreation amenities and activities at your resort can be an excellent source of additional revenue. Whether you have poolside reserved seating, group classes, kids camps, rental equipment, or programming, many of these assets are often unknown or under-utilized by resort guests and can be turned into revenue-generating opportunities.
Streamlining such services and successfully booking guests for these activities can be challenging and quite time-consuming, especially with labor shortages, erratic weather patterns, and last-minute changes in travelers' schedules.
ResortPass sat down with one of our partners, Andrew Pelletier, Assistant Operations Manager, at the Hyatt Regency Chesapeake Bay Golf Resort, Spa, and Marina in Cambridge, Md., to discuss how to navigate this area and streamline recreation activities for maximum results.
ResortPass: How does ResortPass help you streamline and better manage such activities?
Andrew: ResortPass has been amazing. We have been able to manage the day passes and non-room activities with ease. Using the White Label Solution has been seamless for our guests. They can easily book all their activities, rentals, and classes, plus they can access our dining, golf, amenities, and resort map all on one site from the convenience of their phones.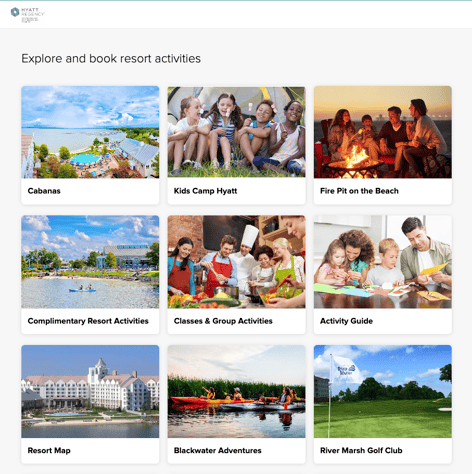 The White Label also sends guests a confirmation email of their activities or items they booked which helps them know it's fully booked. We used to have an old Excel spreadsheet that had our cabana information. But, that was never fully accurate and was challenging for our staff.
Now, guests can book their cabanas online without having to call or email. They can also select their cabana location on a map during the check-out progress. Our staff can also create reservations in the system so we never have to worry about overselling or double bookings.
In addition, we don't have to worry about charging the guests since they pay at the time of booking online. It is already all taken care of. All our staff has to do is hit "check-in" on the backend system of ResortPass.
We also promote day passes, cabanas, birthday packages, and our Hyatt Kids Camp on ResortPass.com. The site has all of our information about our property, which makes it great for those local guests who now know what we offer. They can easily book a day pass to experience our amenities and service for just the day.
ResortPass: How difficult is it to manage your cabanas, group activities, Kids Camp, and other recreational activities at your property, especially at a time when there is a tight labor market in most areas?
Andrew: It takes a lot of energy, guidance, youth, and coffee to do it all. We try to have flyers and guides for our guests to get all our information about the water sports, Camp Hyatt, and all our many amenities. We have been hit with a lack of staffing and it has hindered us in regard to certain events. That being said, we know our limits and work with what we can and the hours we can accommodate. We make sure all staff, leaders, and management are all hands-on deck to help us get it done. Our team is stronger together when we are working with one goal, to satisfy our guests.
ResortPass: What was the most challenging part of managing these recreational activities at your hotel?
Andrew: For us, the weather can be very unpredictable and cause us to cancel or move activities indoors at the last minute. Here in the recreation department, we are all about being outdoors and having fun. That is not as easy to do when it rains. We always make it work, and try to offer better indoor games and play movies at the indoor pool.
Another thing is communicating to the guests all the recreational activities we do offer. There are many that never knew that we had culinary classes, water sports, a volleyball court, tennis courts, or a disc golf course. Our hotel does hand out experience guides that list all the activities and amenities, but many tend to lose that piece of paper or don't read it. We end up talking to the guests on the phone, in person, or directing them where to go for the activities.
The White Label site has increased our guest's exposure to our offerings since they can see everything on the site and book from there. We send it out in a pre-arrival email so the guests can plan their vacation before they arrive on site. We also use QR codes on the property to capture as many reservations as possible.
With so many things we offer it can be overwhelming but a great team helps make our department run smoothly.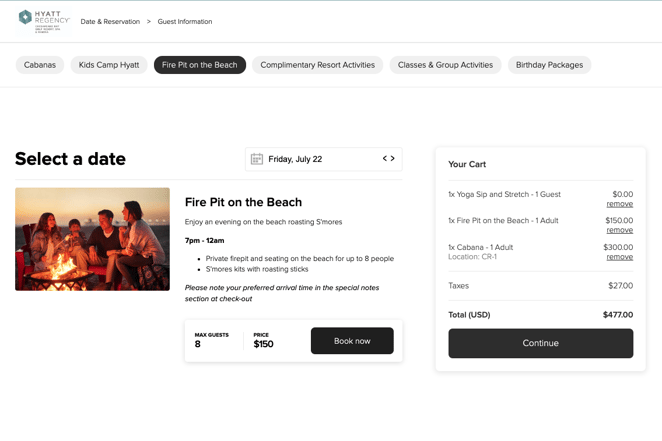 ResortPass: How has ResortPass improved your resort activities operations?
Andrew: It is so much easier, and this platform gets the word out about our property! I like that we can schedule in advance when certain activities are available. We can also control the availability and adjust pricing on the backend as we see fit.
For our Birthday Party Packages, guests can view the package on our white label site or ResortPass with a description and pricing information. We can schedule when it is available and open up as many packages as our team can handle. When it is not available, the guests will still be able to see the information but they will not be able to book. I love that it still shows the option so they can select another date that is available. We also put in the description that this package is only available for certain dates, which lets the customer know when to book. I can also see when our activities or cabanas are sold out on the back end so I can plan my schedule accordingly.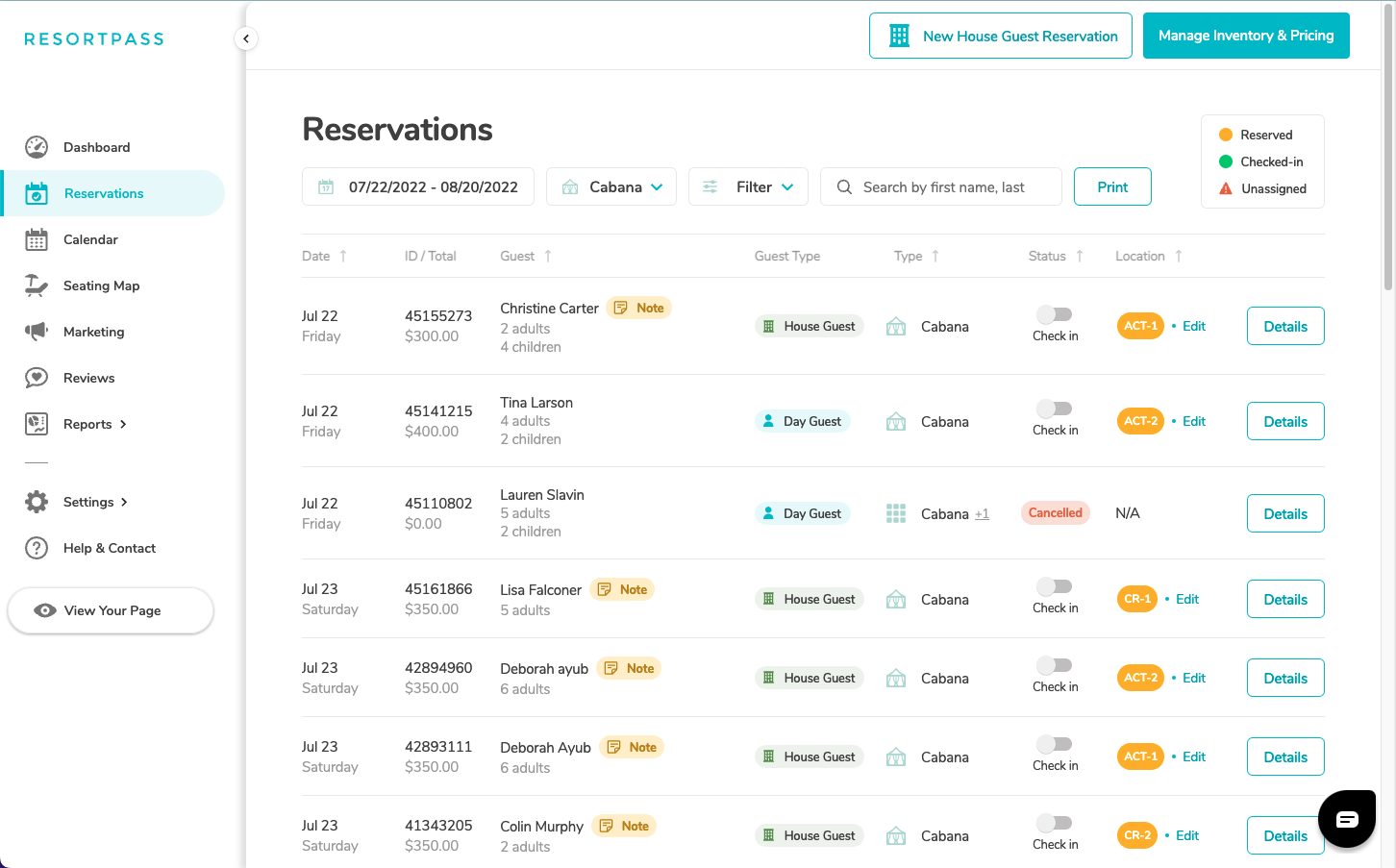 ResortPass: Have you seen an increase in the Recreation Department revenue since partnering with ResortPass?
Andrew: Overall, we have seen a 30 percent increase in revenue for our department this summer. In May, we hit $4,000 in sales and we doubled that by hitting $8,000 in ResortPass sales for June. We are already more than halfway through July and have surpassed our June sales with over $12,000 in gross sales this month.
In addition, since working with ResortPass, I have seen over $1k more in a week in just day passes for us. We have not had this option open since 2019. And, on a daily note, we have had revenues of just under $500 in day passes, with our cabanas reaching up to $1,000 per day.
The locals in our town want to use our amenities and this option on ResortPass helps them. We have been able to up our pricing for our Camp Hyatt and cabana rentals by over $45 to $100. The extra charge covers local community customers who are not staying at the hotel but enjoy just our amenities for the day. Since Camp Hyatt was closed for two years, we can now gain that revenue back with the program once again open to the community and our in-house guests. ResortPass has been a big help in spreading the word about our amazing day passes and the activities we offer weekly.
Overall, the exposure with ResortPass has helped out our revenues significantly.
Join the over 1,000 hotels and resorts that have partnered with ResortPass to maximize their amenities, activities, and events through our White Label Solution and Day Guest program. The complete solution allows you to manage all your offerings in one central location and push inventory to ResortPass in real-time with a click of a button.
Our implementation is fast and easy with no setup costs or IT required. Schedule a call with our team today!